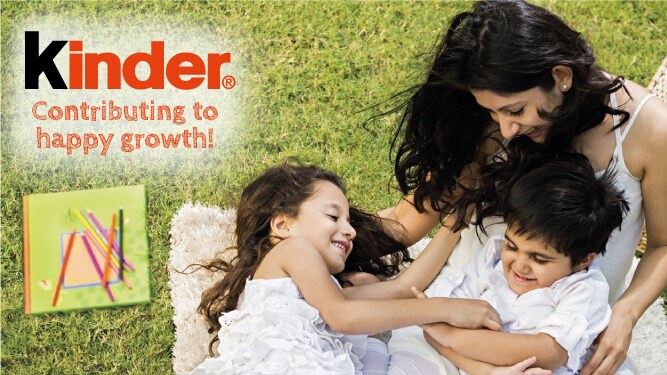 Kinder
 Kinder has always had one objective: to bring parents and children together by offering them tasty and joy-filled moments to share. This is the philosophy behind Kinder with its products -designed to provide both tastiness and reassurance.

The three fundamental values of Kinder are the taste of our distinctive products, the joy of sharing them with family and friends and the trust we have earned from you.At Kinder these values drive the philosophy behind our brands.

The joy of growing up

Positive experiences during a child's early development help contribute to a happy childhood.
Joy can be built on a series of small discoveries, a healthy dose of creativity and shared moments between parents and their children. It is an essential element to foster emotional and cognitive growth.
We believe that our products can make a small contribution to these intimate and irreplaceable moments that you spend with your family.

Little big pleasures

We have always been committed to providing kids of all ages with unique tasty snacks that satisfy their desire for something sweet.
At Kinder, we believe that pleasure, in the right amount, is an important value to share.

This is why we create high quality products designed with kids in mind that give them lots of joy.

A relationship built on trust

Our primary aim is to be true partners with parents in raising happy children.

We believe that the best way to build a trustworthy relationship is to base it on the quality of our ingredients, the integrity of our recipes and the appropriateness of our portions. This is how we reassure parents that Kinder is a good partner.